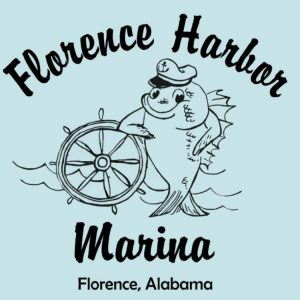 Boating License is provided with Rental.
By water, Florence Harbor Marina is nestled within 1 mile of Historic Downtown Florence, Alabama and located at Mile Marker 256 on the Tennessee River on Lake Pickwick just below Wilson Lock and Dam.
The marina has 110 wet slips for boats ranging from 20 to 60 feet. We offer transient dockage for visiting boats and can accommodate boats over 150'. Gas and Diesel fuel are available. A pump-out station is also available.
Boating the "America's Great Loop" on the Tennessee River? Many "Loopers" have made Florence and/or our marina their permanent home. Make Florence Harbor Marina your stop for touring The Shoals and reprovisioning. Enjoy our seasonal floating, two-story bar and restaurant.
Need a ride into downtown Florence? Uber and Lyft offer services locally. A courtesy van is available for transient guests. Downtown Florence, has new hotels, restaurants and drug/convenience stores. Of course, we can arrange boat maintenance and repair services.
Enjoy the Tennessee River at Florence Harbor Marina, a privately owned and operated facility adjacent to McFarland Park.
Going to the Florence Harbor Marina is like a mini-vacation break in your everyday routine. We also offer pontoon boat rentals.
Walk along the parking lot past the boats in the marina slips to the outstanding Florence-Lauderdale Visitor's Center. Exhibits include tourist sites from the music industry to the building of Wilson Dam, our own Frank Lloyd Wright home, plus numerous other museums and things to do.
A gathering place for boat owners, river travelers, visitors and locals alike, the restaurant's also the only one in the Shoals where you can eat and get a closeup view of fish swimming in the river -- while you're still inside the restaurant.
And don't forget the views outside the restaurant, either. Stroll along the riverfront and enjoy the scenery, which is stunning both at night and during the day.
We have TONS of FANTASTIC Restaurants:
Ricatoni's  - Italian
Pimento's - American cuisine
306 Bar-b-que and Sports Bar - Fun place to watch the game
Lost Pizza - great local hangout
Ray's at the Bank - upscale dining
High Spirits Distillery - locally distilled
Jack's Bistro - famous chef
360 Grille/Swampers - upscale dining at the Marriott
On The Rocks - bar and grill
The Pie Factory - pizza, pasta and wings
Wildwood - bar with hot dogs and more
FloBama - bar and music entertainment venue
306 BBQ - sports bar and barbeque
Rosie's - Mexican cantina
Odette - upscale dining with bar and great atmosphere
Yum - Asian
and many others.
---